Home>Products >Samarium cobalt magnets
SAMARIUM COBALT MAGNETS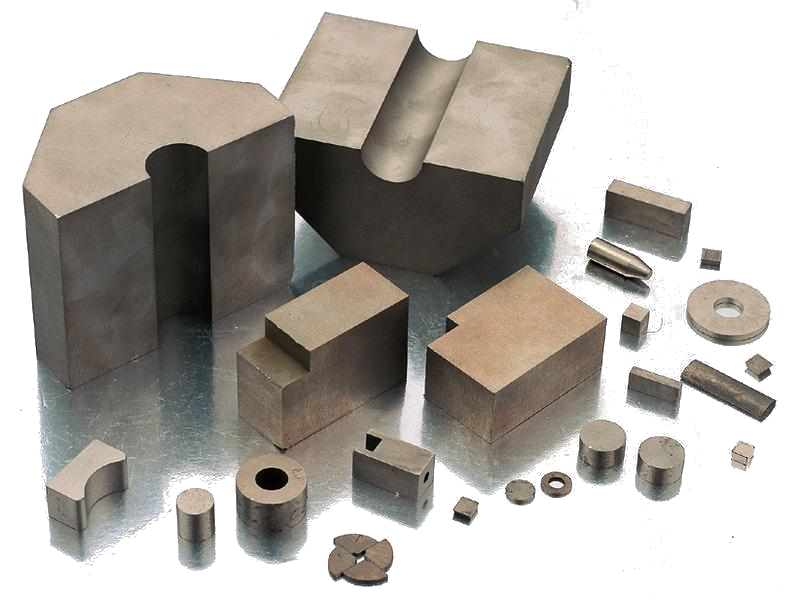 Magnosphere' industry leading Samarium Cobalt (SmCo) magnet materials break the performance barriers of other magnetic components. Offering several operational advantages, our top-of-the-line 35E is currently the most power dense samarium cobalt magnet on the market, and is specifically created for the most demanding environments, including high speed (100,000 RPM+), high temperature (above 150°C) and highly corrosive environments, such as aerospace, motorsports, and automotive industries. As the market leader in high performance SmCo, Magnosphere continues to push the boundaries of magnetic performance, while maintaining an integrated and sophisticated supply chain.
Grades 33E & 35E provide record-breaking performance under extreme conditions — from motorsports to aerospace.
Key Benefits of Samarium Cobalt Magnets
Performance at temperature extremes – Samarium cobalt magnetic materials offer the world's highest stability and magnetic output at elevated temperatures.
Broad-based source of supply – Unlike neodymium (Nd) magnets, which need high levels of rare dysprosium (Dy) to function at moderate temperatures, SmCo magnets use materials that are more widely available and are inherently stable at temperatures well above the Curie point of NdFeB. This makes SmCo pricing more stable and less prone to market changes.
Breadth of applications – Use Magnosphere's 35E to achieve higher performance and efficiency in your automotive, motorsports, aerospace, defense, or industrial application.
Custom properties – Since we are an integrated supplier, we can adjust the composition of your material for performance at extreme temperatures up to 550°C, or for much lower temperature coefficients for sensitive applications.
Magnosphere's custom SmCo magnets are made to your specification and project requirements.
Samarium cobalt grades 33E and 35E are ideally suited to the following applications:
High Efficiency Rotors
Drive Components
Electric Motors
Couplings
Generators
Sensor Systems
Actuators
Energy Recovery Systems
All locations in our product's supply chain are registered with ITAR and can adhere to DFAR clauses.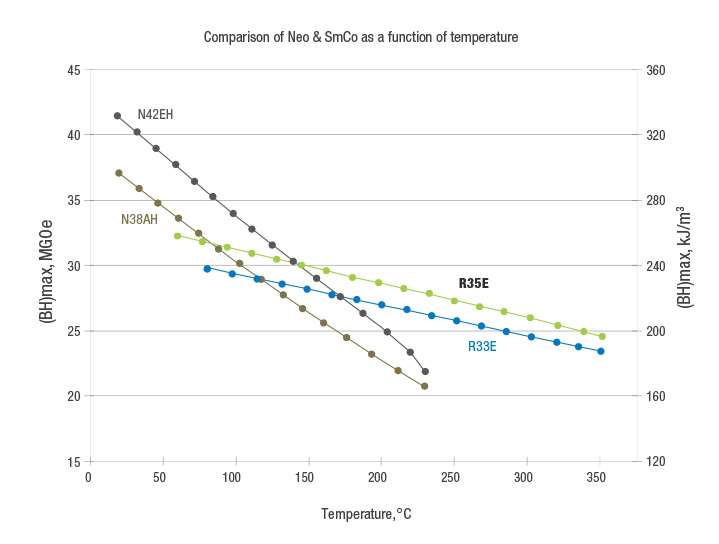 Samarium Cobalt Grades and Properties At-A-Glance
Available in standard grades 18-35E, custom grades for high temperature and low reversible temperature coefficient, and in any shape needed for your application.
Grade
BH max
Br
Hcb
Hcj
Reversible Temp. Coef. of Induction
Max Oper Temp*
kJ/m 3
MGOe
T
kG
k A/m
kOe
k A/m
kOe
%/K
°C
18
143
18
0.87
8.7
650
8.2
2400
30
-0.045
250
26HE
215
27
1.07
10.7
800
10.1
2000
25
-0.035
350
30
230
28.9
1.12
11.2
820
10.3
1600
20
-0.035
250
30 S
235
29.5
1.12
11.2
845
10.6
2150
27
-0.035
350
32
240
30.2
1.15
11.5
835
10.5
1350
17
-0.035
250
32 S
245
30.8
1.15
11.5
850
10.7
1790
22.5
-0.035
250
33E
251
31.5
1.16
11.6
867
10.9
2100
26.4
-0.035
350
35E
255
32
1.17
11.7
860
10.8
2100
23
-0.035
350
Save time – collaborate early
To learn more about our Samarium Cobalt high temperature magnets, and whether SmCo is the right material for your custom assembly, contact a specialist today.