Home>Products >Neodymium iron boron magnets
NEODYMIUM IRON BORON MAGNETS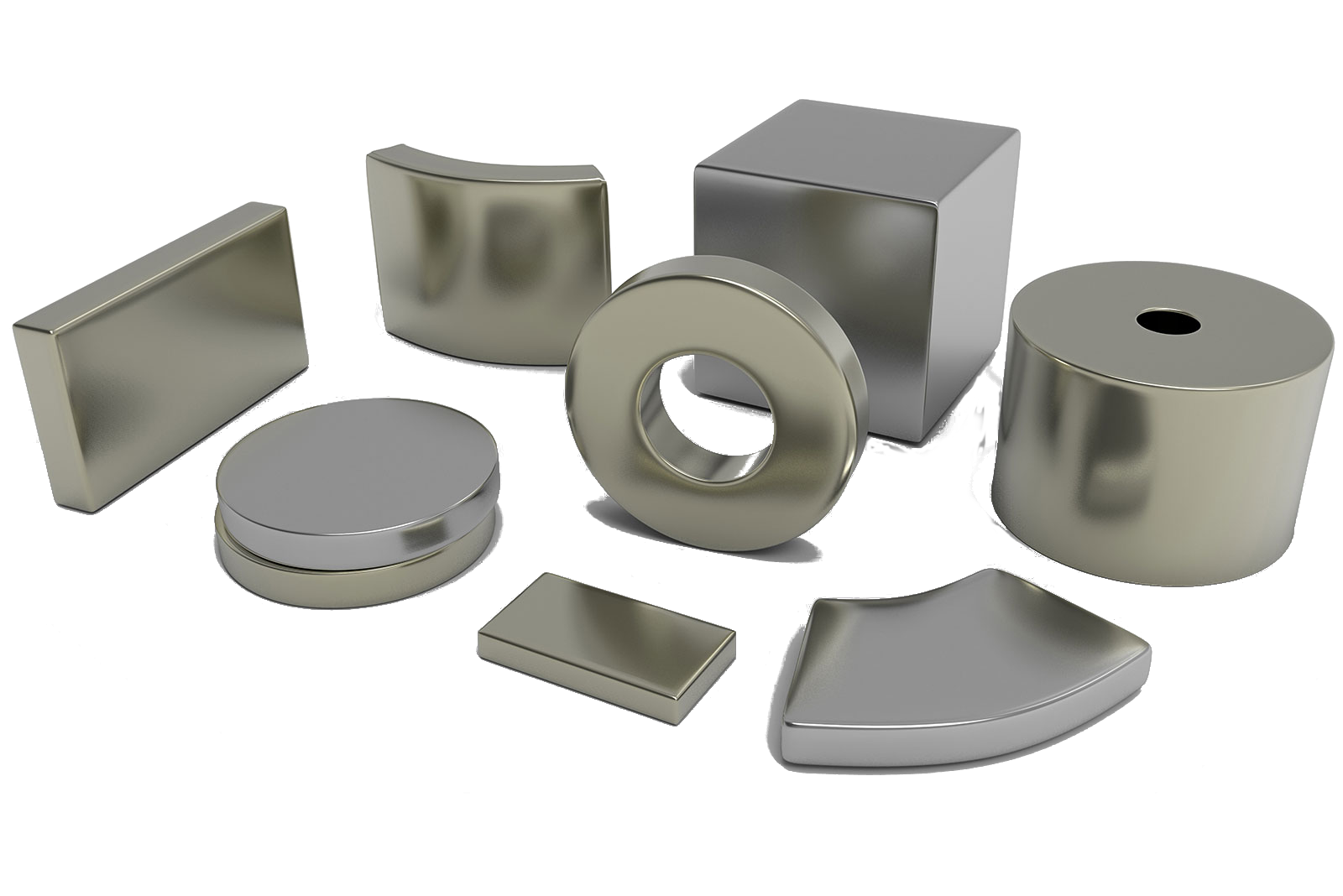 Neodymium iron boron (NdFeB), or "neo" magnets offer the highest energy product of any material today and are available in a wide range of shapes, sizes and grades. Neo magnets can be found in a variety of applications including high performance motors, brushless DC motors, magnetic separation, magnetic resonance imaging, sensors and loudspeakers.
Magnetic properties will differ depending upon alignment direction during compaction and upon size and shape. Download individual spec sheets from the table below, or get the full neo catalog for specific grades and their magnetic properties, including the trade-off in Br (and energy product) for HcJ (intrinsic coercivity, resistance to demagnetization).
Maximum Use Temperature and Corrosion
Determining whether or not to use neo magnets instead of our SmCo magnets, for example, is a function of the maximum temperature of the application, required magnetic output at typical use temperature and total cost of the system.
Neo magnets have some limitations due to their corrosive behavior. In humid applications, a protective coating is highly recommended. Coatings which have been used successfully include epoxy coating, nickel plating and combinations of these coatings. Magnospherealso has the capability to apply Parylene coating to neo magnets. Effectiveness of coating is dependent upon the quality of the base material. Magnospherehas evaluated multiple manufacturers for corrosion resistance of the base material and only supplies licensed, highly corrosion-resistant materials produced under tight control.
Available Neo Grades
Properties:
Br
HcB
HcJ
BHmax
Rev. Temp. Coef.
Temp.
Grade
Typical mT
Typical gauss
min kA/m
min oersteds
min kA/m
min oersteds
Typical kJ/m3
Typical MGOe
Br %/°C
HcJ %/°C
max °C
N30
1105
11,050
796
10,000
955
12,000
235
30
-0.12
-0.75
80
N33
1150
11,500
836
10,500
955
12,000
259
33
-0.12
-0.75
80
N35
1210
12,100
860
10,800
955
12,000
283
35
-0.12
-0.75
80
N38
1260
12,600
860
10,800
955
12,000
306
38
-0.12
-0.75
80
N40
1285
12,850
923
11,600
955
12,000
318
40
-0.12
-0.75
80
N42
1315
13,150
860
10,800
955
12,000
334
42
-0.12
-0.75
80
N45
1350
13,500
860
10,800
955
12,000
350
44
-0.12
-0.75
80
N48
1400
14,000
836
10,500
955
12,000
374
47
-0.12
-0.75
80
N50
1425
14,250
836
10,500
955
12,000
390
49
-0.12
-0.75
80
N52
1450
14,500
836
10,500
876
11,000
406
51
-0.12
-0.75
60
N55
1490
14,900
716
9,000
876
11,000
430
54
-0.12
-0.75
60
N33M
1175
11,750
836
10,500
1114
14,000
267
34
-0.12
-0.675
100
N35M
1210
12,100
868
10,900
1114
14,000
283
35
-0.12
-0.675
100
N38M
1260
12,600
899
11,300
1114
14,000
307
39
-0.12
-0.675
100
N40M
1285
12,850
923
11,600
1114
14,000
322
40
-0.12
-0.675
100
N42M
1315
13,150
955
12,000
1114
14,000
338
42
-0.12
-0.675
100
N45M
1350
13,500
971
12,200
1114
14,000
354
44
-0.12
-0.675
100
N48M
1395
13,950
995
12,500
1114
14,000
378
48
-0.12
-0.675
100
N50M
1415
14,150
1035
13,000
1114
14,000
390
49
-0.12
-0.675
100
N52M
1445
14,450
995
12,500
1035
13,000
406
51
-0.12
-0.675
100
N30H
1105
11,050
796
10,000
1353
17,000
235
30
-0.12
-0.605
120
N33H
1175
11,750
836
10,500
1353
17,000
267
34
-0.12
-0.605
120
N35H
1210
12,100
868
10,900
1353
17,000
283
35
-0.12
-0.605
120
N38H
1260
12,600
899
11,300
1353
17,000
307
39
-0.12
-0.605
120
N40H
1285
12,850
923
11,600
1353
17,000
322
40
-0.12
-0.605
120
N42H
1300
13,000
955
12,000
1353
17,000
330
41
-0.12
-0.605
120
N45H
1350
13,500
971
12,200
1353
17,000
354
44
-0.12
-0.605
120
N48H
1390
13,900
1011
12,700
1353
17,000
378
48
-0.12
-0.605
120
N50H
1415
14,150
1035
13,000
1274
16,000
390
49
-0.12
-0.605
120
N30SH
1125
11,250
811
10,200
1592
20,000
243
31
-0.12
-0.535
150
N33SH
1175
11,750
844
10,600
1592
20,000
267
34
-0.12
-0.535
150
N35SH
1210
12,100
876
11,000
1592
20,000
283
35
-0.12
-0.535
150
N38SH
1260
12,600
907
11,400
1592
20,000
307
39
-0.12
-0.535
150
N40SH
1285
12,850
939
11,800
1592
20,000
322
40
-0.12
-0.535
150
N42SH
1310
13,100
955
12,000
1592
20,000
330
41
-0.12
-0.535
150
N45SH
1350
13,500
979
12,300
1592
20,000
354
44
-0.12
-0.535
150
N48SH
1390
13,900
995
12,500
1512
19,000
374
47
-0.12
-0.535
150
N28UH
1075
10,750
764
9,600
1990
25,000
227
29
-0.12
-0.465
180
N30UH
1125
11,250
812
10,200
1990
25,000
243
31
-0.12
-0.465
180
N33UH
1175
11,750
852
10,700
1990
25,000
267
34
-0.12
-0.465
180
N35UH
1210
12,100
860
10,080
1990
25,000
283
35
-0.12
-0.465
180
N38UH
1260
12,600
876
11,000
1990
25,000
307
39
-0.12
-0.465
180
N40UH
1285
12,850
915
11,500
1990
25,000
318
40
-0.12
-0.465
180
N42UH
1310
13,100
955
12,000
1990
25,000
330
41
-0.12
-0.465
180
N45UH
1350
13,500
955
12,500
1910
24,000
358
45
-0.12
-0.465
180
N28EH
1085
10,850
780
9,800
2388
30,000
227
29
-0.12
-0.42
200
N30EH
1125
11,250
812
10,200
2388
30,000
243
31
-0.12
-0.42
200
N33EH
1165
11,650
820
10,300
2388
30,000
267
34
-0.12
-0.42
200
N35EH
1200
12,000
836
10,500
2388
30,000
279
35
-0.12
-0.42
200
N38EH
1235
12,350
899
11,300
2388
30,000
303
38
-0.12
-0.42
200
N40EH
1270
12,700
915
11,500
2388
30,000
314
39
-0.12
-0.42
200
N42EH
1310
13,100
971
12,200
2308
29,000
326
41
-0.12
-0.42
200
N28AH
1075
10,750
780
9,800
2706
34,000
223
28
-0.12
-0.393
220
N30AH
1120
11,200
812
10,200
2706
34,000
239
30
-0.12
-0.393
220
N33AH
1140
11,400
812
10,200
2706
34,000
231
29
-0.12
-0.393
220
N35AH
1195
11,950
883
11,100
2706
34,000
275
35
-0.12
-0.393
220
N38AH
1240
12,400
923
11,600
2626
33,000
299
38
-0.12
-0.393
220
N35X
1210
12,100
860
10,800
955
12,000
283
35
-0.11
-0.75
80
N35MX
1210
12,100
868
10,900
1114
14,000
283
35
-0.11
-0.675
100
N45MX
1350
13,500
971
12,200
1114
14,000
354
44
-0.11
-0.675
100
N38HX
1260
12,600
899
11,300
1353
17,000
307
39
-0.11
-0.605
120
N40HX
1285
12,850
923
11,600
1353
17,000
322
40
-0.11
-0.605
120
N45HX
1350
13,500
971
12,200
1353
17,000
354
44
-0.11
-0.605
120
N33SHX
1175
11,750
844
10,600
1592
20,000
267
34
-0.11
-0.535
150
N35SHX
1210
12,100
876
11,000
1592
20,000
283
35
-0.11
-0.535
150
N38SHX
1260
12,600
907
11,400
1592
20,000
307
39
-0.11
-0.535
150
N42SHX
1310
13,100
955
12,000
1592
20,000
330
41
-0.11
-0.535
150
N30SHZ
1125
11,250
804
10,100
1592
20,000
243
31
-0.1
-0.535
150
N33SHZ
1175
11,750
844
10,600
1592
20,000
267
34
-0.1
-0.535
150
N35SHZ
1210
12,100
876
11,000
1592
20,000
283
35
-0.1
-0.535
150
N38SHZ
1260
12,600
907
11,400
1592
20,000
307
39
-0.1
-0.535
150
N45SHZ
1350
13,500
979
12,300
1592
20,000
354
44
-0.1
-0.535
150
N30UHZ
1125
11,250
812
10,200
1990
25,000
243
31
-0.1
-0.465
180
N33UHZ
1175
11,750
852
10,700
1990
25,000
267
34
-0.1
-0.465
180
N38UHZ
1260
12,600
876
11,000
1990
25,000
307
39
-0.1
-0.465
180
N40UHZ
1285
12,850
915
11,500
1990
25,000
318
40
-0.1
-0.465
180
N30EHZ
1125
11,250
812
10,200
2388
30,000
243
31
-0.1
-0.42
200
N38EHZ
1235
12,350
899
11,300
2388
30,000
303
38
-0.1
-0.42
200
N30AHZ
1120
11,200
812
10,200
2706
34,000
239
30
-0.1
-0.393
220